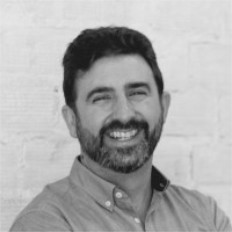 Miguel Angel Calero is cofounder at Wealize, a digital product studio with the upper hand in blockchain, conversational agents, cognitive services, mobile apps and web development.
Miguel is a serial entrepreneur, consultant, lecturer, teacher, mentor, tech freak, civil engineer, digital innovation catalyst, and father of two.
But also with some dedication at UnoCeroUno, a non-profit organization fostering the local ecosystem; and advisoring startups and companies in tech, education and talent, and and Escuela de Organización Industrial (business school), as teacher, lecturer and mentor at digital transformation and entrepreneurship.
Last 15 years I founded coSfera, an innovation focused organization for coworking, fostering digital ecosystem, digital education for kids and career-change and corporate innovation; PLANEM, a civil engineer, architectural and urban planning company; Caricae Agromediterranea, a premium mediterranean fruit export company; and 24 hats, an agency developing digital innovative products for corporates.
Lecturer and teacher on open innovation, digital transformation, coworking, lean startup, business models, metrics, exponential entrepreneurship and disruptive technologies.
Active member in the startup and digital community as program director in StartX and Founder Institute, Google Developers Group member, mentor at Google Launchpad, organizer and facilitator at Startup Weekend, and organizer of BetaBeers, among others.